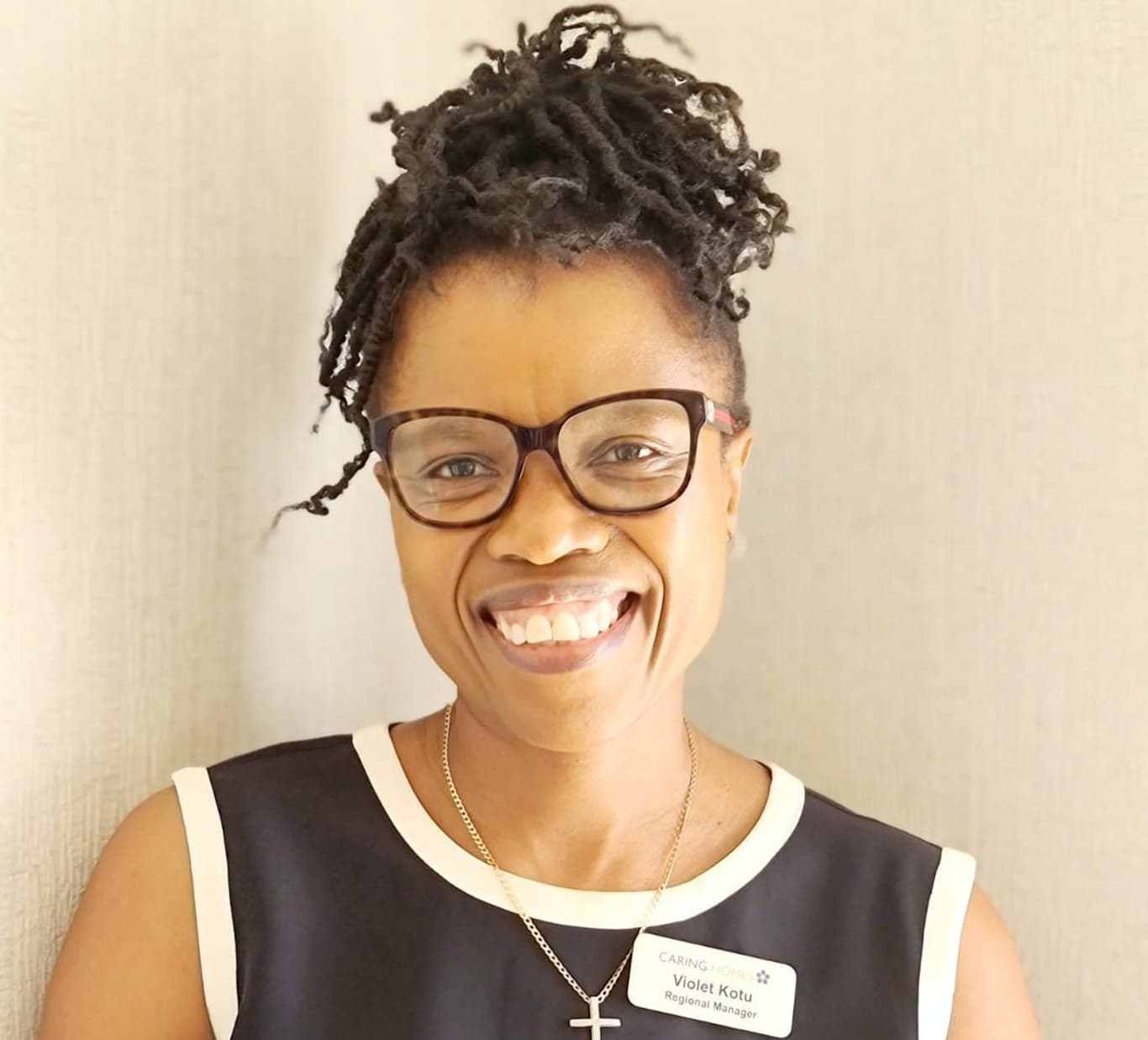 Violet
Our team of fantastic colleagues makes every Home a Caring Home. And across our business, we work alongside people from all walks of life, who all share the same passion to help every resident live life to the full. Today, Violet is telling us how she went from qualified nurse to Regional Manager here at Caring Homes...
"I am a qualified general, psychiatric, community nurse and midwife by background and have worked in healthcare for over 30 years. I have worked for Caring Homes for 3 and half years and am one of the Regional Managers employed to oversee caring and dedicated teams across care homes in Essex, Suffolk, Hertfordshire and Isle of Man.
The last 2 years have shone a light on the exemplary work and passion of those who work in social care, our ancillary support staff in housekeeping, laundry, catering, maintenance, care, nurses and all those who led the teams in what will probably be for some of us, the most challenging period of our careers if not our lifetime.
I was extremely humbled and amazed by the resilience and tenacity that every single member of our teams shown. Our teams chose to be on the front line, whilst they themselves and their families were placed at risk, they fully supported our Residents and loved ones with compassion. No words can express the gratitude we have towards all our colleagues.
Caring Homes has a very supportive culture, from the executive and senior leadership teams to our remote support teams all are always available when you need advice.
If your heart is in care and you do not mind having fun at work, come join the Caring Homes family."
"I love working for Caring Homes as I am surrounded by supportive and welcoming colleagues."

Jodie
Recruitment Advisor

"The residents, staff and relatives, along my journey, have taught me many things which I am truly grateful"

Steve
Group Executive Head Chef

"If your heart is in care and you do not mind having fun at work, come and join the Caring Homes family"

Violet
Regional Manager

"Working here has taught me that I can do bigger and better things and I can push myself to do better and go further."

Tubi
Unit Manager

"I'm so proud of everything I've achieved…I couldn't have done it without the support of a great team"

Anna
Deputy Manager

"I'm just so grateful to be working for Caring Homes, I felt like professionally I just fit in more."

Judi
Unit Manager