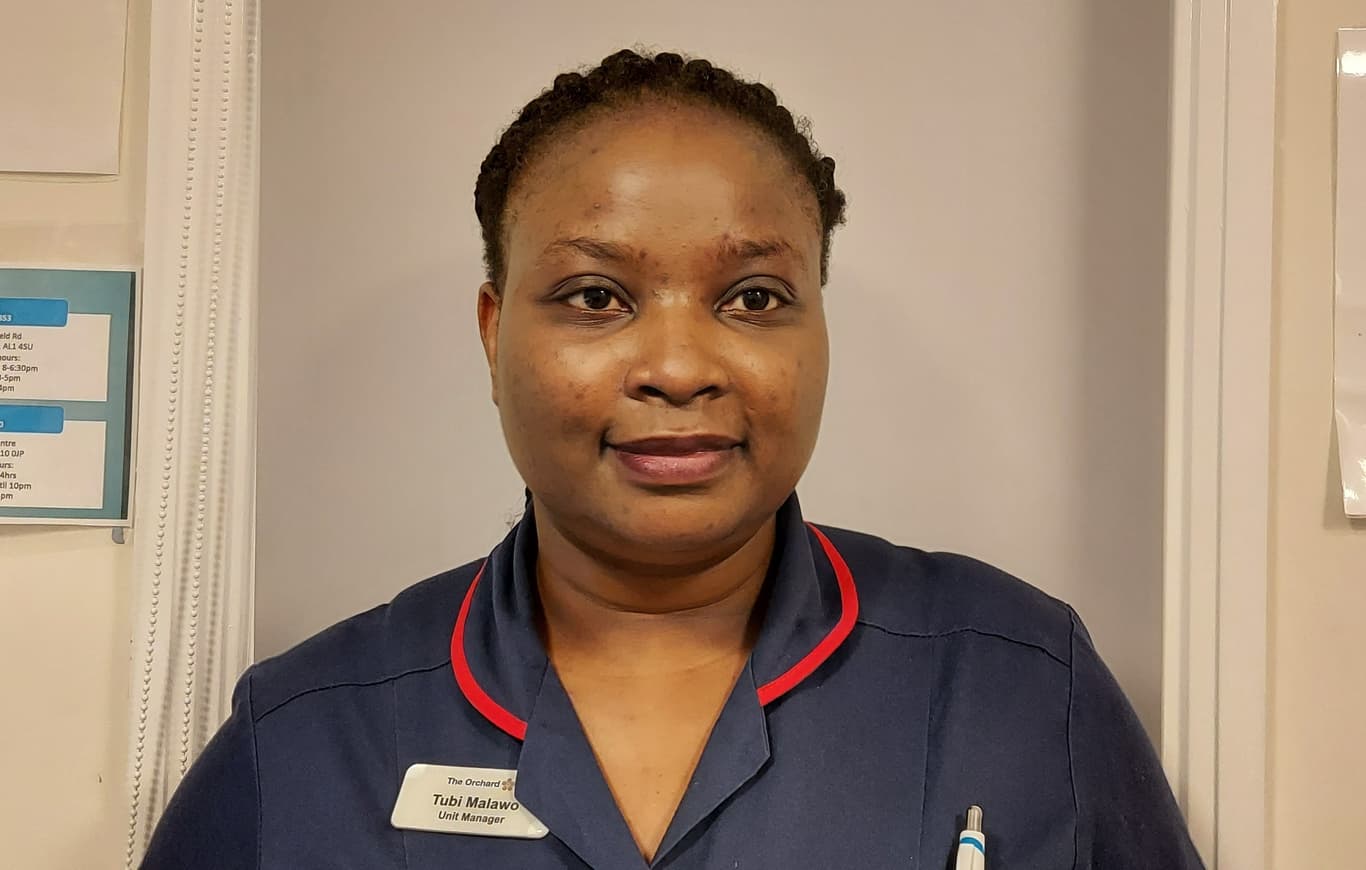 Tubi
Our team of fantastic colleagues makes every Home a Caring Home. And across our business, we work alongside people from all walks of life, who all share the same passion to help every resident live life to the full. Tubi is clinical lead at the Orchard Nursing Home in St Albans, Hertfordshire. Tubi's story is so inspiring – what a journey!
"I came to the UK from my home country of Zambia in 2017 after being recruited by a UK based recruitment company who were looking for registered nurses. My friend recommended them to me, and after they were linked to a job somewhere else in the world, I read Caring Homes profile and thought it sounded like an exciting opportunity to see something different and grow my career. I've always been interested in growth, professionally, intellectually and personally, the opportunities for progression really stood out at Caring Homes.
I started as a registered generalist before taking my OSCE, the competency test and registration process for nurses trained outside the UK, before enrolling to be sponsored by Caring Homes for level 5 in adult and social management and leadership and progressing from a registered nurse to clinical lead or unit manager.
The last 4 years have brought so many highlights, I love being able to make a difference to the lives of the residents, I know daily that I can make someone's life better, by showing them some love or something simple like getting them a glass of water, and I've learned so much about myself as a person.
I have the best supportive team around me who encourage and support me to progress my career and have made me realise how much I can achieve. I know that I can do bigger and better things, I've won awards for the last two or three years, one for leadership and one for coping under pressure. It holds so much value for me.
Most of my friends that I travelled over with have changed jobs, but I'm still with Caring Homes and they can't believe it and ask me how I'm still here, but I'm happy and content here and I know that if I want more training, I can go for it and if I want to climb up the ladder, I can."
"I love working for Caring Homes as I am surrounded by supportive and welcoming colleagues."

Jodie
Recruitment Advisor

"The residents, staff and relatives, along my journey, have taught me many things which I am truly grateful"

Steve
Group Executive Head Chef

"If your heart is in care and you do not mind having fun at work, come and join the Caring Homes family"

Violet
Regional Manager

"Working here has taught me that I can do bigger and better things and I can push myself to do better and go further."

Tubi
Unit Manager

"I'm so proud of everything I've achieved…I couldn't have done it without the support of a great team"

Anna
Deputy Manager

"I'm just so grateful to be working for Caring Homes, I felt like professionally I just fit in more."

Judi
Unit Manager