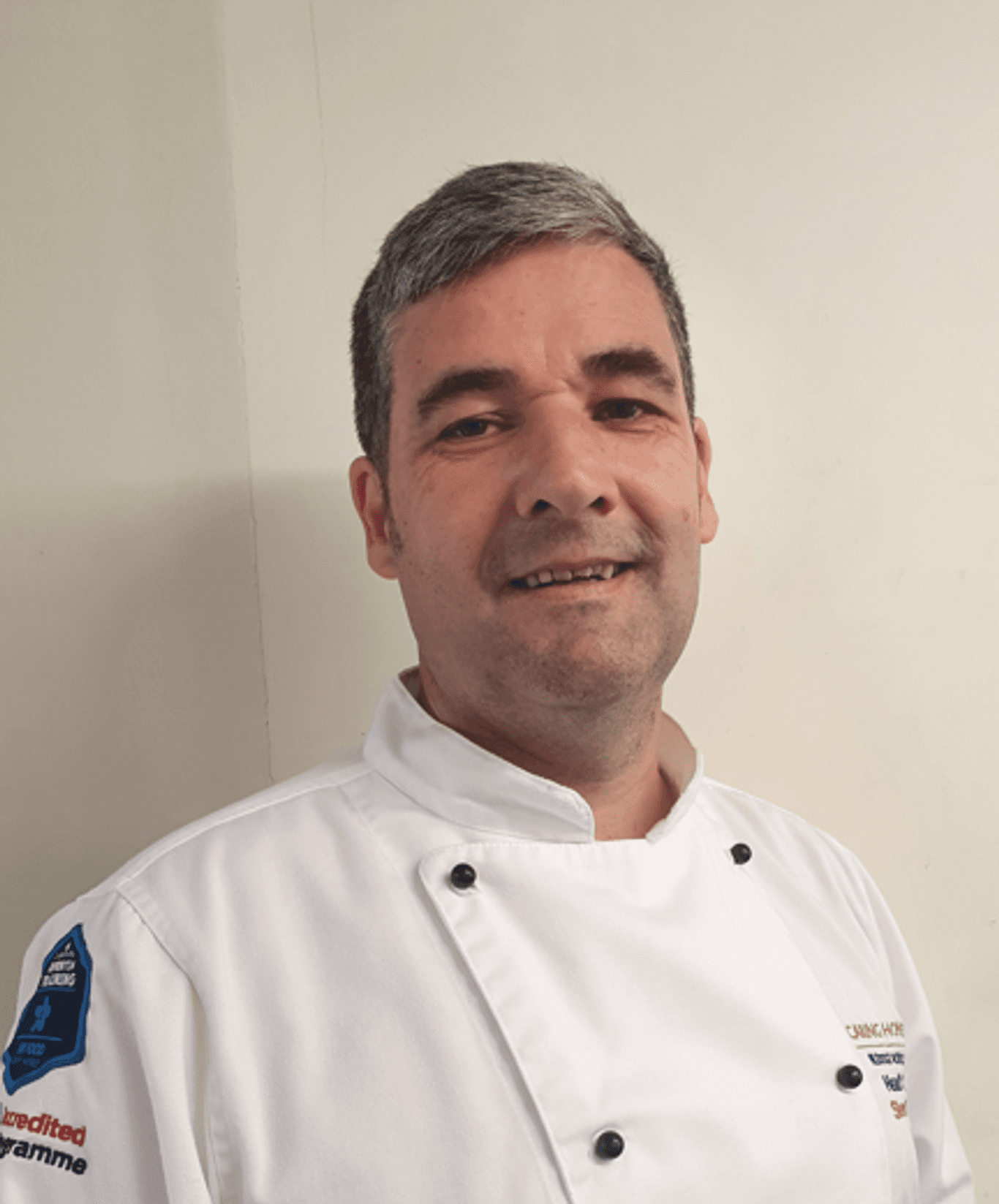 Steve
I started my Caring Homes journey in 2018 as a Head Chef at Abbeycrest Care Home. The part of the role I enjoyed the most was talking to the residents and listening to their life stories then being able to develop food using this knowledge. The residents, staff and relatives, along my journey, have taught me many things which I am truly grateful for as this was my first role within care catering.
When I first started, it was daunting to say the least, although I am a seasoned chef of over 30 years, I had never held the hands of my customers to the extent that is required working within the care industry, yes, I had done some work for agency during my military career for care homes but never been fully employed with in this sector.
Having joined the Army in 1989 as an Apprentice Chef I had to learn quickly to adapt to any situation and I have used this throughout my catering career. As you progress within the military you are taught life skills that embed in you and you utilise in every scenario in life, like communications, management and dealing with everyday issues. These skills are required every day in care catering and working within Caring Homes as you communicate with residents and colleagues daily to deliver what they require to help sustain their life and give them a purpose every day.
I have since been promoted within Caring Homes to Group Executive Head Chef, where I can utilise my military skills even further, some days this may include completing audits or teaching other chefs within our development programme.
Having catered all over the world with the military including serving 9 operational tours I have the experience to help deliver a better dining experience for all our residents and relatives. Prior to joining Caring Homes when I left the military I worked in restaurants and contract catering for a few years but this takes its toll on you having to work all the hours that is required for these jobs, I then looked at care catering as this has a really good feel factor as you are making a difference to someone's life and it is a better quality of life for yourself.
"I love working for Caring Homes as I am surrounded by supportive and welcoming colleagues."

Jodie
Recruitment Advisor

"The residents, staff and relatives, along my journey, have taught me many things which I am truly grateful"

Steve
Group Executive Head Chef

"If your heart is in care and you do not mind having fun at work, come and join the Caring Homes family"

Violet
Regional Manager

"Working here has taught me that I can do bigger and better things and I can push myself to do better and go further."

Tubi
Unit Manager

"I'm so proud of everything I've achieved…I couldn't have done it without the support of a great team"

Anna
Deputy Manager

"I'm just so grateful to be working for Caring Homes, I felt like professionally I just fit in more."

Judi
Unit Manager